Leeds, Birmingham and Manchester outperformed London in property price boost.
While Brexit fog thickens on house prices in southern cities, northern cities are showing surge with 10% average increase in the housing market. Northern cities including Leeds are becoming more affordable and investor-friendly even under the Brexit uncertainty.
Richard Donnell, research and insight director at Zoopla, said: "The strongest performing cities are outside south-eastern England where affordability remains attractive and employment levels are rising. We expect current trends in price growth to continue across the rest of this year, with prices rising in line with earnings for much of the UK but lower growth and some house prices falls in London and the south"
House prices in northern cities such as Birmingham went up to 16%, and Manchester and Leicester both showed 15% growth. The three cities have been the fastest growing since June 2016 post EU referendum.  Housing prices in Edinburgh and Nottingham are growing at 14%, Leeds and Cardiff at 12%, and Liverpool and Sheffield showed 11% growth. Growth rate of 12% in Leeds shows a further potential growth compared to north England's three high performers cities.
However in the southern cities, Cambridge has experienced a 4% drop in house prices since the people voted in the favor of Brexit. Price growth slowed sharply to 1% in London and 2% in Oxford according to Zoopla's UK cities house price index, which is based on data from Hometrack
Figure 1- House Price Growth from 2016 to 2018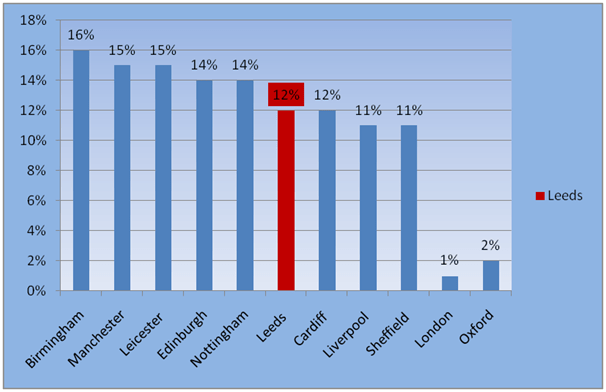 Zoopla was of the view that the effect of economic and political uncertainty, after the Brexit vote, was more acutely felt in southern English cities because of the fact that the prices in these cities were already higher compared to northern cities. Therefore the major factor contributor to slow growth in housing prices in southern cities i.e London was the "lack of affordability".  
Zoopla has predicted a further downfall in housing prices in London mainly because of the persistent post Brexit uncertainty as Richard Donnell, the research and insight director at Zoopla, said:" London will continue to register price falls". Therefore, it is a high-time to invest in the cities that are showing continuous growth. Furthermore, future economic prosperity is evident in northern part of England mainly because of the affordability factor in the south. 
Care4Properties provides best professional services to the landlords and tenants on competitive terms. Please contact us on 0113 2488181 or email us at [email protected] for free consultation.