Are you thinking about buying a property? Buying a new home is a pretty exciting yet stressful experience, especially when there are many legal regulations to get your head around. Sometimes it's really hard to know when and where to start!
You must know the rough outline of how the process works to make the ride smoother. For your assistance, we've put together everything you need to know in a guide to walk you through all the steps from thinking of buying a house to moving to your very own home! This guide will cover the timeline, costs, property searches, making an offer, and that all-important moving day!
Get An Idea Of The Timescale
Have a rough idea of the timescale you are looking at, as the time scale varies depending on the buyer's and seller's circumstances. Sometimes, conveyancing problems can arise and add delays to the buying process.
It may take six to ten weeks from putting in an offer to getting the keys. If you take out the mortgage to buy the house, the lender can take two to three weeks to issue the request to your solicitor. Then your solicitor will take four to six weeks to complete their work involving searches. Then the contract is exchanged, and completion is set.
If you buy cash, you can save the two/three weeks the lender usually takes, as there is no lender in this case. Sometimes cash buyers want the survey done before they buy to check that there are no major issues in the property. The survey takes at least a week at least. After the exchange, completion takes place within a week. Now, you own the property legally.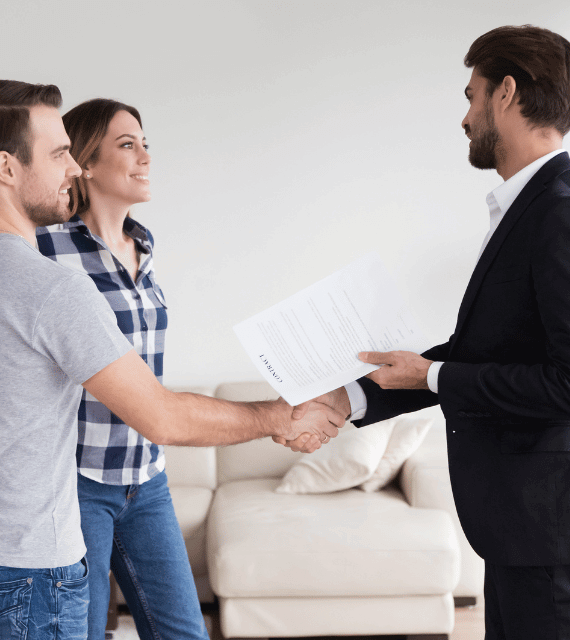 Check Your Affordability
Before starting your property search, it's essential to think about important moving expenses. Tragically, it's not only the price of the house, but there are other expenses to consider. Going through your funds early will keep you from getting additional funds! Here is the list of the costs to consider before making a decision.
Expenses To Consider
Upfront Funds –  Your deposit will likely be your highest upfront cost when you buy a home. Depending on the property's price, the deposit amount can be more or less. It is mostly 10% of the current price of the property. Lenders nowadays are lending up to 95% LTV as well. So if you are lucky to find such a lender, you will pay only a 5% deposit.
Stamp Duty Tax – Stamp Duty is a tax you must pay on purchasing a property. It has to be paid within 30 days of the completion of the sale. The stamp duty rules are very complicated. Visit here for more info about Stamp Duty Land Tax.
Different Types Of Surveys
Once you have accepted the offer, you must survey before committing to the purchase to confirm the property's value and to check that property is in good condition.
Homebuyers Report – The homebuyer's report normally costs £300-£400. It is suitable for conventional properties less than 50 years old.
Full Structural Survey – A 'Full Structural Survey' is an in-depth inspection of a property's interior and exterior condition, costing up to £1,000. It is a much more detailed survey providing tailored advice on building and grounds issues.
Legal Fees You Need To Pay
Purchasing a property for you is not simple; you must fulfil many legal commitments. You will have to arrange for a solicitor or licensed conveyancer to take care of all to carry out a smooth process, which is not free of cost.
Some Other Ongoing Expenses
There are other ongoing costs even after you're the legal owner of your property. There are still a few important expenses to consider, such as insurance of the property, council tax, utility bills, furnishing, and any unexpected repairs.
Search For The Best Property
Here comes the most awaited part of the buying process. While browsing the best, this is quite important to hook yourself up with a plan!
Where Should You Search The Property From?
Browsing the property on well-known portals such as Rightmove and Zoopla is a great place to start, but ignoring the Local Estate Agents would not be wise. Make sure you head to the websites of Local Estate Agents around, as they often list properties before the portals do. The agent fee usually costs 1% to 3% of the property's sale price plus 20% VAT. You, as a buyer, do not pay this fee. This fee is charged to the seller.
What Are You Looking For?
Knowing what you are looking for is impossible, but you should have some idea. Make up your mind about what you want; this includes bedrooms, bathrooms, a garden, and your price range!
How Should You Find Your Dream House?
You must register with your local estate agent! They are aware of the information on properties coming to the market, and if they propose the perfect options, they will keep you updated even before they go live online. They will put you in a great position to make an offer!
Arrange ViewingsBefore you arrange a viewing, be sure you have a good search of the listing online first. Check out the floor plan and ensure you can see yourself living in it. Another golden tip is never to consider anything outside your price range; falling in love with a property you can't afford can be disheartening! Take someone with you when going for viewings; a second opinion is always helpful.
Viewing Checklist
What is the general area like?

Does it need work? If so, can you afford it?

Is the flooring in good condition?

Are there any dampness or cracks?

Is there much storage?

Are the windows double-glazed?

Is there a good bath or shower?

Where is the boiler & how old is it?

Do the taps work?

Is the house overlooked?

If it has a garden, is it south facing?

Is there scope to extend?

What broadband is currently installed?

Is there a loft?

If it's flat, what is the leasehold & is there a management fee?

Are there any nearby transport links?
Make An Offer
It would be best to have some careful thoughts before making an offer.
Things To Think About!
Will you compromise, or does the property match all your requirements? Another thing; is to check if the property needs much work. Could you afford this work, or are you willing to live in its current condition until you have money?
Don't Be Discouraged!
Your first offer may get rejected, so don't be disheartened. Sometimes settling a request may take a lot of time, especially when multiple people are interested in the same property. Being unsuccessful in negotiating the offer means the right property is still waiting for you. 
What Should You Do After Your Offer Gets Accepted?
If you're successful in your offer, the estate agent will list the property as sold subject to contract. At this point, you'll need to apply for your mortgage formally and appoint a conveyancing solicitor. Although this sounds complicated, your estate agent will often be able to advise you on how to go about this.
Keep An Eye On Gazumpind And Gazundering
For you and your seller, no one is legally bound to complete the purchase until you have reached the exchange of contracts. Until you reach that milestone, there is always a risk of being gazumped or gazundered. The buyer and seller are not legally obligated to finalize the purchase until they exchange the contracts. It would be best to watch for gazumping and gazundering as they are common practices in the property market, and neither is illegal.
Gazumping is a sneaky technique whereby a vendor accepts a higher bid from another buyer before contracts are signed and exchanged.
Gazundering is where the situation is turned around, and a buyer withdraws an offer and makes a smaller offer. This is usually done just before the exchange of contracts to encourage the seller to accept a lower number.
Request your seller to take the property off the market and make it a part of your offer. The seller can do this if he knows you are serious and ready to move quickly. Since the seller is not bound to take a property off the market, he can sometimes surprisingly do this, especially in fairly flat housing market areas. So, it would be best to be as quick as possible between accepting your offer and exchanging contracts. 
What Is the Next Step?
Once your offer has been accepted, this is where the legalities come into play. There is a lot of paperwork and a few steps to go through – but it will all be worth it when you get those keys! It's important to remember that the average property sale takes around 16-18 weeks but can differ depending on the circumstance!


Appoint A Conveyancing Solicitor
Conveyancing is the legal process of transferring property from one person to another. Conveyancing solicitors are the property lawyers handling the legal, Land Registry, and local council searches, preparing the contract, and exchanging money. This all can cost from £1,000 to £1,500 or more.
Once you've agreed to the mortgage offer, the mortgage lender will arrange for a property valuation to check the property is worth the amount they are lending you. You can also organize an independent chartered surveyor to conduct an in-depth, impartial account of the property's condition. If any problems occur in either survey, this is where price negotiation may need to happen. Your solicitor should carry out the following searches for you:
Local Authority searches to check the issues like building control, enforcement action and nearby road schemes.
Drainage Searches to check its connectivity to sewers.
Environmental Searches to make sure that land isn't contaminated.
Contact your conveyancer through phone calls to get a quicker process.
Work out a Date of Completion
The results of the searches will be communicated to you by your lawyer. If everything seems fine, the next step is to work out a completion date with the seller. The date the keys are handed over is known as the completion date. This should be a time that is convenient for both you and the seller. We advise you to be flexible here. The seller might need to time it for the beginning or end of the month to settle some payments. You, too, will need time if you're selling your property.
Hand Over Your Deposit Money To Your Solicitor
You're almost ready to exchange contracts, so it's time to hand over your deposit money to your solicitor. Get your deposit money into one bank account (or two if you've more than an £85,000 deposit, so it's all protected under the UK savings safety scheme). Most banks don't usually allow you to move more than £25,000 out of an account per day (some have higher limits), so if you want to move more than this, you'll need to call your bank and arrange a CHAPS payment to your solicitor.
A CHAPS payment (for the Clearing House Automated Payment System) is usually made on the same day. You'll need to pay your bank between £20 and £35 per CHAPS payment, so factor this into your costs. Your solicitor will also get you to sign the contract when you commit to buying the vendor's house.
Exchange Contracts
The contract exchange occurred when you and the seller's solicitor exchanged signed copies of the contract. Now it's time to celebrate. You currently have a legally binding agreement with your seller. Once this has happened, you can't get out of the deal. If you do that, you'll forfeit your deposit money. But, on the plus side, the seller can't back out either. After this point, many simple and quick paperwork happens, and the rest goes easy.
Obtain A Completion Statement From Your Solicitor
You will get a completion statement from your solicitor with a clear breakdown of the money you need to give. This will include any outstanding deposit, stamp duty land tax, solicitors' fees, etc. You supposedly need to pay these on or before your completion date.
Sign The Transfer Deed
You need to sign the transfer deed prepared by your solicitor, and it should be witnessed. The transfer deed confirms your willingness to take ownership of the property. Your solicitor will then share it with the seller's solicitor. Some buyers won't need to sign this. But make sure you've been asked to sign one. If not, check with your solicitor.
Pay For The Property
Your solicitor will send full payment to the seller's solicitor and receive their title deeds and proof that the property is clear of all the claims if it had any. 
Get The Keys! You Own A New Home
Finally, get the keys to your new home and enjoy moving. Make your stamp duty payments (again through your solicitor). This process will take 14 days to complete from your solicitor to forward your transfer deed to the Stamp Office and for you to pay stamp duty land tax. Usually, buyers are asked for cash before completion.
Register Your Ownership Officially
Your solicitor will register your details with the Land Registry. You'll need to deposit a fee of around £200-£300, depending on the price of the property you're buying. The Land Registry fee details are usually included in the statement of completion and paid by completion day.
Obtain The Title Deeds, And Here You Go…!
Your solicitor will get the new title deeds from the Land Registry and give them to you. You may request them to keep it on file if you don't want to keep such important documents in the house.
Congratulations! Finally, Here Comes The Moving Day!
The wait is over, and your big day has arrived. You must have picked up your keys by now, and the property is legally yours!