Tenant Guide
Many people find renting more comfortable than owning a property. People with limited budgets can get the property that fits their affordability. It is a good option for those who want to live in different locations as time passes. Although it provides versatility, one must be cautious while choosing one to live in. You are renting costs you not only your money but also your time. Our tenant guide is here to help you through each step, i.e., from searching for a suitable property and fulfilling your tenancy terms to the end.
Things to Consider Before Starting A Search
Make A Careful Budget – Money is the most important factor in your tenancy. Have a deep insight into your financial stability while looking for a property. You must consider your monthly living cost and the cost attached to renting.
Deposit – It is one of the heaviest expenses in the renting process. It roughly equals five weeks' rent, e.g., if your agreed rent is £500pcm, your deposit will be £575. If we fully manage your property, we will hold the promise in bonded client accounts according to the government's rules. It is done to protect the rights of both tenant and landlord. When the tenancy ends, both are helped by the proposed deductions to reach an agreement. While renting through a private agent or landlord, it is better to check which Tenancy Deposit Scheme they registered.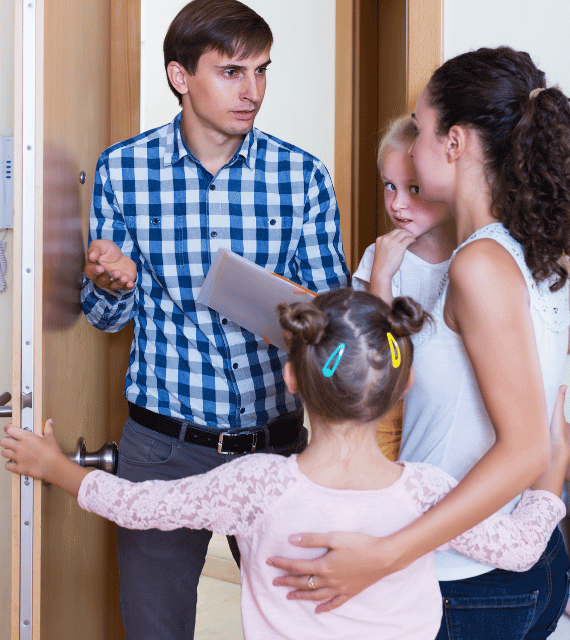 Payment Of Advanced Rent –
Generally, rent is paid at the start of the month. Prepare yourself for the cost of rent immediately after the beginning of your tenancy.
Calculate The Holding Fee – To reserve the property for yourself, you must pay us a holding fee equivalent to 1 week's rent. It is done once your application for rent is accepted for the property of your choice. The process of referencing will go side by side. Our legislation will complete the compulsory paperwork within 15 days after the deposit of the holding fee. It may take longer if necessary, but with the written notification. 
Your holding deposit will not be returned if you terminate the tenancy. Any unjustified delay in responding to necessary actions, misleading information, or failure to comply with the Immigration Act 2014 will also lead to retaining the holding fee. If the landlord doesn't continue with the tenancy for reasons other than those mentioned above, you will be entitled to get the holding fee back in 7 days. If the living continues from both sides, the holding fee is deducted from the rent due for the first month. If your holding fee is not repaid in any form mentioned above, we will provide you with a written statement explaining why. After the success of your tenancy application, the breach of agreement will lead you to pay a certain amount by the Tenant Fee Act 2019.
Associated Costs – Some associated costs include rent, council tax, utilities(gas, electricity, water), and phone and television licenses. The landlord's belongings are generally insured against any damage. You may destroy anything accidentally, so getting them insured on your behalf is better. You must consider your traveling costs if you travel frequently.
Duration Of The Tenancy – Normally, the tenancy is done for six months. Being flexible is a good way to confirm the maximum time you can stay.
Look For A Property Of Your Choice
It is not an easy task to move from one place to the other. Consider your needs and the lifestyle you want to acquire or maintain while selecting a property.
What Do You Prefer? Furnished Or Unfurnished Property?
A furnished property means you will get all the essential household items. On the other hand, you are being unfurnished means getting white goods along with carpets or curtains only.
What Are Your Requirements About The Number Of Bedrooms?
Your need for the number of bedrooms depends on your lifestyle. Also, remember the number of people living in the house.
What Sort of Parking Do You Like? Garage Or Off Street?
This is another equally important thing. The parking lot will be used around the clock. It should be comfortable for you.
Do You like Gardens?
If you are fond of gardening, it will be heaven to have one at home. On the contrary, if you don't like greenery, go for the property that doesn't have lawns or gardens.
Are You A Pet Lover?
Generally, landlords are reluctant to allow pets. Offering a higher rent than proposed may solve the issue. We can also raise our voices on our client's behalf if the situation requires us.
Do You Prefer Areas Near Public Transport Links?
If you use public transport links often, you should look for the areas close to them.
Are You Looking For Let-Only Or Fully Managed Property?
As per your ease, choose whether you will go for a fully managed or a let-only property. If you opt for fully managed, you must contact our property managers as your first point of contact for any maintenance or repairs.
While in the case of let-only, landlords take full responsibility after the tenant is found and the paperwork is done. They hold your deposit themselves or pay it into a secured scheme. We protect your rights in both ways, i.e., fully managed and let-only.
Starting Research
Now, you have sorted out everything regarding the choice of your property. It's time to start looking for a property practically.
Advantages Of Choosing Care Properties
Quick Property Research – C4P can help you find your dream property at a fast pace. We have a massive influx of properties, and our expert agents will arrange numerous visits for you.
Certified Members Of ARLA – As accredited Association of Residential Letting Agents members, our clients can easily trust us. We update ourselves regularly according to the legislation.
Comfort With Us – We work as a bridge between you and your landlord to settle the tenancy terms. We will also manage all the paperwork in your tenancy process.
Visit Properties
Does the property match your needs? You can't confirm it unless you visit it personally. We provide the privilege of online bookings for such visits through our website. You can also email us or contact your customer care centre. Whenever you like a property, visit and confirm it as soon as possible. The reason is that good rental properties are taken faster than any other property. Save yours by acting quickly. If you register yourself with us, you will be notified at once about new property listings. 
Apply Immediately
Here is the Application Form to apply for your dream property and email it to the relevant office. In this online application form, you must check the boxes regarding the details and terms and conditions you agreed upon.
Verify Your Identity
Verification of address and photo is done by all of our clients who will rent a property through us. Property owners have to prove their ownership. These verifications are done before you move into the new property. Click here to get a list of the required documents that you will produce at the time of proof of identity and ownership.
Referencing
We will use your address history to search for a credit reference agency. Reference from your employer, landlords, or agents is equally important. In case you are an entrepreneur, we will use your account details. Our overseas tenants enjoy special treatment. Feel free to ask anything if you have some reservations or if your case of tenancy is a bit different than usual.
Need For A Guarantor
The need for a guarantor arises when we feel your income is insufficient to meet the tenancy expenses. We also require a guarantor to support your tenancy if you are a student. Select your guarantor carefully, as he will be fully responsible for meeting your tenancy agreement if you fail to do so. They must be earning enough to fulfill their financial needs and your tenancy requirements. We will reference them in the future as actual tenants.
Checklist To Move
We have composed a simple checklist to help you move easily. Click here to look.
Your Tenancy
Tenancy Agreement –
Get an Assured Shorthold Tenancy – the most common type of tenancy.
Ensure you and your landlord sign the contract tenancy agreement before your move-in.
The rights and liabilities of both parties should be mentioned clearly.
This contract binds both parties legally, so you should be careful in accepting and signing it.
Please read and understand it keenly.
Joint Tenancies –
We allow you to have more than one person in a single tenancy. It makes everyone individually and collectively responsible for meeting the agreement.

 
Your Responsibilities As A Tenant
Pay your dues, i.e., rent, utilities, etc., on time.

The property is your responsibility. Take care of it!

Be civilized and make sure that everyone who visits does the same.

Spruce up the lawns and gardens, if any.

Two months prior written notice is mandatory if you want to leave the property at the end of the tenancy.
Responsibilities Of Landlords
Landlords should accept and respect the tenant's contractual or legislative rights.

The structure of the property should be intact.

All installations, including water supply pipes and heating systems, should work properly.

Inspect all gas and electrical installations before tenancy.
Rights Of Care Properties
We will access the property when the tenant is available and inspect the safety measures, servicing, any need for repairs, etc.

We will show the prospective tenants when your tenancy is near the end. We will do this at the ease of the tenant only.
The Agreement Includes The Following Information
 

Your full name

Name of your landlord

Address of the property you are going to rent in

Commencement date of the tenancy

Tenancy time

The amount of rent due

The frequency of payment of rent

How often can you make an increment in rent legally?

The council tax payment time frame, service charges or utilities, etc., will be fixed.

Will your landlord provide you with the maintenance of common areas?

Other services promised by your landlord

If any of you wants to terminate the tenancy, the notice time also needs to be fixed.
Your Deposit
You have to pay a deposit before moving into the new property. This is deposited with the payment of the initial rent. It is used in case of breach of tenancy by either side. For example, if there is a delay in payment of rent, rent is not paid at all, any damage in fittings or furnishings of property, etc., then the deposit is used to settle the matter.
The Tenancy Deposit Scheme protects it. When your tenancy ends without any damage to the property, and you have paid all dues and expenses, this deposit is returned to you. We will forward the deposit to your landlord if we are not managing your property. He will be responsible for lodging it with schemes and providing you with the details.
Inventory Details
Inventory stands for all the belongings on the property. A detailed list of the things with their conditions is mentioned therein. At the end of a tenancy agreement, this inventory document decides how much deposit you will be entitled to. Therefore you have to examine it carefully.
About Repairs
As a tenant, you are responsible for looking after the property and its belongings. About repairing, you should see the following division of responsibilities:
Responsibilities Of Landlords
Providing exterior and structure of property in good condition

Checking the heating system and provision of hot water

Inspecting electrical wirings

Checking gas appliances

Providing boundary walls and fences in good condition
Responsibilities Of Tenants
It is the responsibility of tenants to report repairs in time and make them accessible for repairs when necessary.

A neglected minor repair may turn out to be a major one. If it is so, it will affect the repayment of your deposit. You must report the agents or landlords happening as soon as possible.

Being inhabitants of the property, tenants must look after the decorations and furnishings of the interior.

Clean your home regularly and dispose-off the trash.

A tenant is responsible for regular maintenance, e.g., changing light bulbs, bleeding radiators, pressurizing the boiler, treating blocked sinks and toilets, checking smoke detectors, etc.

 

If you want to change the interior or exterior decoration, you must take prior permission.

If any key is lost, you have to replace it carefully. Ensure security whenever you leave the premises.

Lawns and gardens demand regular care. Maintaining them is also the responsibility of the tenant.
Maintenance And Services
Some things need to be checked regularly. For instance, if we talk heating systems are checked by specialist contractors annually. Such visits are made with prior notice and are done by a Gas Safe Registered Contractor. You are responsible for ensuring these inspections. Otherwise, it may be considered a breach of contract. Whenever a contractor finds an unsafe appliance, he will immediately disconnect it. It would be best to accept that disconnection as it will be for your safety.
Scheduled Inspections
Some inspections are scheduled during your tenancy to maintain the property well. Resolving any health or safety issues arising from maintenance problems is also useful.
Do You Want To Renew Your Tenancy?
You may want to extend tenancy if:
You are satisfied with the rental property.

It meets your needs fairly.

It provides you with the comfort you were looking for.
In such a case, you will have to ask for an extension property, and this process is called renewal. Such extension is granted if the landlord is satisfied and agrees to continue the tenancy beyond the initial agreed time.
If You Want To Move Out
As we mentioned, a two-month written notice will be required if you want to leave the place at the end of a tenancy. You should read the Tenancy Agreement to get answers to any queries in this matter.
Checking Out And Returning Deposit
Before you move, a detailed inspection of the inventory is carried out. The property should be in the same condition as at the time of tenancy. Normal depreciation is an exception. Good maintenance of the property will help you get the most out of your deposit back.
We care for our clients and so for their benefit. We want them to be as easy and productive as they can be. We have composed an essential checklist and useful tips for the end of a tenancy. Click here to view them in detail.