How To Sell Your House – A Complete Guide
Are you in the dilemma of selling your home? Do the complexities in procedure haunt you? Forget the worries. You are in the right place now. It would be best to have a rough idea of how the selling process works to make the ride smoother. For your assistance, we've compiled everything you need to know in a concise and complete guide to walk you through all the steps from buying a house to moving to another home!
This guide will cover the timeline, costs, property searches, accepting an offer, and that all-important moving day!
Our concise and complete guide will help you at every step regarding selling and purchasing your properties. Let's have a look at these steps individually.
Evaluate Your Finances
It is helpful in decisions to locate where you stand right now in your present mortgage. Know your liability from the lender before stepping forward in your deal, e.g., if you are halfway through a five-year fix. If yes, then you must be liable to pay some fee by moving – check with your lender. If you're on your lender's standard variable rate, that could save you from any penalty fees for driving- the standard variable rate is the rate your mortgage reverts to when a deal, such as a fixed-rate or tracker period, ends.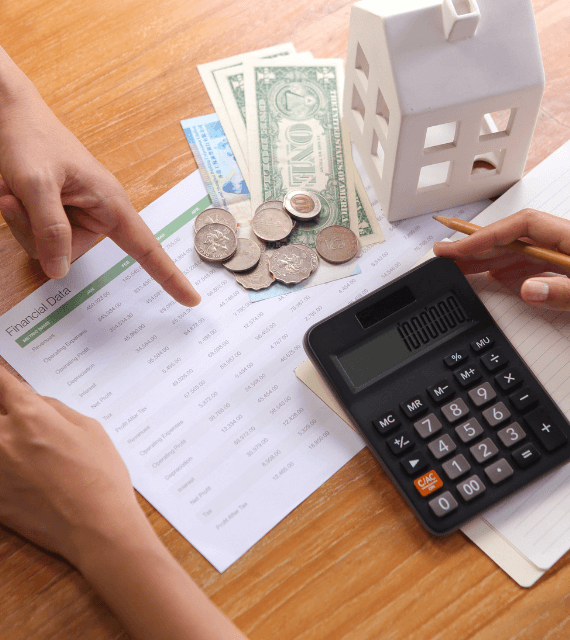 Is your mortgage "portable"? You should not be worried if your lender has no objection to your new property and its price. However, it is not guaranteed that your lender will let you port. However, you can move your existing mortgage with you without any extra cost – even if you are halfway through a fix or tracker deal.  
On the other hand, if the porting option is unavailable during the mortgage term, you may have some initial repayment charges. The ratio of these charges ranges between 1 and 5% of the remaining mortgage amount. It makes moving costly. These examples will make you understand the procedure better:
2% reimbursement at  £ 226,000 mortgage will be £ 4,520

3% reimbursement on the same amount will cost £  6,780

5% reimbursement will be £  11,130
Estimating how long you've left on your existing deal and how much it will cost to be free from it is good. If the deal seems too expensive, go with the flow until the deal ends.  
Prepare Your Home – Quick Wins
Tidy Your Home – Depreciation is a must for every property. To get the utmost benefit, it would be the best thing to fix any problem. We are here to guide you on how to get it done in one shot.
Get An Eye-Catching Exterior – Your property must be loved at first sight. Make it up the way to get the attention of any visitor. You can follow some key points to start it up and make it easy as well as a result in winning:
Trim the lawn.

Give your home a new look. Have fair play with colours. Make the windows and doors shiny and well-painted.

Make the entrance neat and clean.

Upon entering, your place should look broad.
Work On The Interior
Although it may cost you a little, it will make it more worth it. The interior decor is more likely to grab visitors' attention and willingness to buy it. Things to be taken care of are as under:
What will you look for as a buyer? Make sure the availability of these things is in your asset.

Let the visitors observe themselves. Respect their personal space and opinion.

Specify the use of rooms according to their location and ease.

Mirrors are strongly recommended because they make the area more spacious and illuminated. Don't forget this tact.

Avoid the use of harsh colour combinations. Accessories, furniture, walls, curtains, etc., should make a decent partnership to help visitors think positively.
Spend On Innovation – Before you start the work on innovation, categorize it. You must be clear about which spending will bring the most positive change. For example, if you reconstruct your kitchen, it will cost much. Instead, the changes in the colour scheme will add more charm at a limited cost.
Generally, building a new kitchen will add to the overall value by 4-6% and the new bathroom by 2-3%. Trying to bring your ideal version may not be successful. However, if there is a need for construction, go for it. It is necessary to remove faults from other ornamental things. We believe house decor makes only a little difference to the end price, but it does make a big difference in selling quickly. We are here with some useful quick tips to renovate your home.
Estimate The Value Of Your Property
After making renovations, it is the first thing to value your property. Overvaluation or undervaluation will make it difficult to sell. So it is compulsory to propose value according to market rates. You can do the following in this regard:
Online  Research – Rather than contacting a real estate agent, it is better to do online research related to the property rates in your area. Check the ups and downs in prices of the past 12 months. Online estate service providers like Rightmove and Zoopla will be helpful. It is suggested to go through the price rates of other properties having the same size and specifications as yours. You can use sites like Rightmove, which shows original value with pictures. Avoid getting into the arrogance of your property and overvaluation. Being real will help you to sell at a quicker pace. Update yourself about the sales going around you. Have a keen look at those properties and their prices to get a competitive comparison with yours. The point to remember is that the proposed fee is not fixed. The selling price may rise or drop it. Hope for the best; don't lose hope if it goes down.
Get The Advice Of An Estate Agent – Get the advice of two or three agents after your homework. Avoid disclosing the proposed price of one agent to the other. You may sell your property directly if uncomfortable using these estate agents. To broaden your vision, it is good to take the price estimation by different estate agents. For example, you should go for a high-profile agent, a local dealing one, and then do online research. Note them down for further calculation of your property.
For example, suppose an agent in high-profile societies estimates your property at £ 300,000, while an agent in a local community estimates it at £ 230,000. In that case, the most appropriate value will be £ 250,000. Variety in amounts is the beauty of the selling process. It adds complexity and competition. Ranging from the highest estimate to the lowest estimate, you are going for the best option for your property.
Advertising – You don't have to follow hard and fast rules in selling. Work the way you are comfortable with. You can find an estate agent to work for you in case of time limitations. It may add to your cost. If it is hard for you to attend to visitors occasionally, estate agents are a good option. On the other hand, if you are free to do these activities yourself, it will save a lot of money involving intermediaries. We can compare the cost of different categories of agents as follows:
High Profile Agents – Everything is getting online in the age of computers and the internet. The same is the case with online estate agents. But we cannot oversee the importance of high-profile agents. Online services are more easily approachable and provide virtual tours too. Other agents, especially high-profile agents, prove costly. You can agree on a fixed percentage of the sale price, generally 0.75% to 3%, only if the property is sold. In this case, you will save money if the sale doesn't happen.
Remaining in connection with the agents who have been in this field for a long time is better. A local community can aid you in finding such people. Finding highly-rated agents will be easier if you have a local newspaper. Looking at their previous work with their service charges will give you the crux of their dealings. Recommendations done by such agents will showcase your product in front of future buyers.
Online Estate Agents – Doing it yourself and outsourcing services to online agents will be a low-cost method. Initially, they may charge a startup fee, but now they prefer to set it only if the sale is made. Online agents don't charge anything, while on the other hand, street agents may cost up to £999. Your strategy may save you the extra cost of street agents. The area and construction of your property matter a lot. 
Sell It Yourself
Although physically and mentally tough, selling your property will give you the biggest advantage over any other option. While selling yourself, you remove the advertising option on PrimeLocation, Rightmove, or Zoopla. You have to advertise yourself to attract the buyer. Local resources such as billboards and notice boards can spread your word. 
Host The Viewings Yourself – Being an authority in your place, you know the best about the living experience. It would be best to ignore the security risk of having unknown people with you. Involve your friends or people around you in the visits. Inform them after you have completed the round.
Display A Sign –"House For Sale" – Make people know that the property is for sale by putting the words "for sale" in any form. You can make the sign yourself, get a readymade signboard, or customize it on AMAZON or EBAY, ranging from £ 15 to 30.
Arrange A Conveyancer / Solicitor
Transferring property from seller to buyer officially requires some legal documentation. Manage a licensed conveyancer for this purpose. They are experts and legally eligible to grip such sales. Initial documentation, registry, outlining contract, transfer of money, etc., is in the hands of legal conveyancers. They are expert property lawyers.
It is recommended not to go with the conveyancer prescribed by any agent. The reason is that they may have secret sharing resulting in more cost to you. To complete the sale quickly, it is better to consult a solicitor or conveyancer before introducing your property to the marketplace.
What Is the Cost of Finding A Conveyancer?
They have different price mechanisms. Know what they charge for each task to look deeply at the rates of other conveyancers. Homeowners alliance has a rough estimate of £500-1500 for the legal fee. Keep in view the following costs too:
Title Deeds include the legal proof that you own the property yourself. It is generally checked by the Land Registry (£25).
Property  Fraud Fee prevents your possession's fraudulent use or sale (£10).
Transfer Of Ownership – The fee received by the land registry once the sale is made (£200-300).
Bank Transfers are the cost of transferring your money to the bank. It is not applicable if you remortgage with the same lender (£20-30).
Money Laundering involves investigating the buyer to avoid legal complications if wicked activity like money laundering arises (£8/person).
Other Searches include getting information if there are other constraints or local development ( £250).
Would Online Conveyancer Work?
With all other services, this service is also available online. As compared to their street rivals, they offer economical services. Due to their call centre services, you may not contact them directly in one go. It is easier to evaluate their service by looking at their previous clients' reviews. Finding someone who has hired their services recently will be a comfort. You may ask them for a solicitor with whom they have a good experience. Signing up with a service provider who has won your comfort level is mandatory. It is so because you will be in contact with each other. A bad experience with a conveyancer will hinder your selling procedure. Doing prior research is a tool that will help you in your sale.
Know Some Other Costs To Expect
Along with the actual price of the property, there are a lot of costs associated with the sale. If you must buy a new one after selling this, you must cover the hidden costs. These costs must be added to the actual sale price.
Cost estimation based on £226,000 property
Cost
Private sale
Online agent services
High street agents
Agency fees

£0-395

£99-1695

£2034-8136

Conveyancing fee

£500-1500

£500-1500

£500-1500

Energy performance certificates

£35-120

£35-120

£35-120

Removals

£400-1200

£400-1200

£400-1200

Total

£935-3215

£1034-4515

£2969-10956
Energy Performance Certificates
EPC is used to check the energy efficiency of a property. This rating is based on A to G, while A means most efficient and G stands for lowest efficiency. The validity of this certificate is ten years. Buyers prefer highly efficient or medium efficient houses. They look for an efficiency rate from A to D. below D ratings stand for high heating bills. Our housing and energy specialists can guide you to increase your home's energy efficiency. Keep yourself updated with your EPC register to know its validity.
Fill Out Some Relevant Forms
You will have to fill out various forms and relevant questionnaires for the buyer regarding all the information about the property and the sale.
Accept An Offer
You've received an offer – great! Your estate agent is legally bound to pass all offers on to you. You are free to reject the offer at any time if you are not happy with the offer. You can even wait to see if a better offer comes along or ask the agent to try to negotiate it upwards. You should only accept the offer formally once you are happy with it. Remember that even after accepting the offer, you can change your mind or accept the higher offer later (gazumping). Accepting an offer is not legally binding but remember; this can be pretty distressing to the buyer.
Negotiate The Draft Contract
You and the buyer will have to decide:
The timeline between exchange and completion. Usually, it takes 7-28 days after the exchange of contracts

The fixtures and fittings – What will be included, and how much will they pay for them

Any discounts due to issues reported by the survey
Exchange Contracts
Exchange of contracts means you become legally committed to selling your property – and the buyer is legally committed to buying it from you. If you withdraw after this without due reason, the buyer's deposit will be returned to them, and you may be prosecuted. If you sell a home, it is your responsibility to take care of it until the end of the sale. You should therefore ensure that you have insurance for buildings and content by then.
Move Out
You can move out whenever you like, including on the day of completion (although clearly, you need somewhere to move to). It is less stressful to move out beforehand if that is possible. At the time of completion, the property has to be in the condition agreed in the contract – including all the fixtures and fittings. The buyer and estate agent may come between your moving out and completion to ensure everything is in place.
Removals
It means removing your stuff from the site. It will boost the selling process. To save the removal costs, doing the task yourself is the best option if it is practically possible. It will save you approximately £500.
Here are the points on which removal cost depends:

What is the volume of your stuff?

How far is the conveyance from the final destination?

The time in which you are conducting the removal.

How much packaging is required?

How much time and energy will you need to do all removals?

Who is doing the packaging? Doing it yourself will save you extra costs.

The number of breakables.

Level of entrance difficulty.
Like other things, it is also good to do thorough research about the firms providing removal services. After looking at their milestones, you may check where to do things and save some expenses. For example, if it is easy to manage, you may pack stuff yourself.
Bills Payments
Utility bills hit you hard if they cross your estimation. It is better to check the readings yourself and save money to avoid the sudden burden of bills. Some firms also provide the service of having a check on your bill. But it is better to do it yourself. 
Your Selling Purpose
Your task is done if you have to move to another country or want a house for rent. If you get another property, you must immediately showcase your house in the marketplace. Your potential buyers are the ones who have by now sold their property. The other ones are those who have their property in line. The procedure to sell one property while preparing to buy the next one demands the following things:
Keep searching the areas of your choice.

Personally investigate a few of them.

Pick out the one that attracts you.

No one will entertain you enough unless your present property is on sale.

Hurry to look for your home on the market.

As you search for buyers for your property, find sellers to get your next one.

As soon as you find the perfect buyer for your property, get your seller immediately.
We have our property buying guidelines to assist you further. Buying a new property is not an easy task. It roughly takes from 6 weeks to 8 months; consider this period.