ARLA has released its Private Rented Sector Report for December 2018. As per the report, the number of tenants experiencing rent hikes continued to increase till August 2018 but then started to fall during the rest of the year. But in 2019, the report predicted, the tenant would experience the upward trend in rents as the Parliament had passed the much-awaitedTenant Fees Bill which, after Royal Assent, would become a law and would be implemented on 1st June 2019.
Landlords, over the last few years, have been facing continued pressure on their profitability because of the constant regulatory changes and the tenant fees ban will only add to their burden. Majority of the landlords, therefore, will either start increasing rents for tenants or exit the market.
Following are the key findings of the private rented Sector Report published for December 2018:
Figure-1 Number of tenants experiencing rent hikes over the year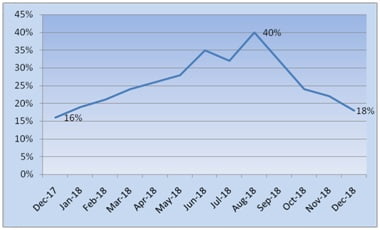 Average number of tenants experiencing rent rise increased till August 2018 but started to fall in September 2018 and showed a downward trend till December 2018.
In December 2018, 18 percent of tenants have experienced a rent rise which is the lowest figure recorded since December 2017, when 16 percent of tenants experienced rent rise. Between December 2017 till August 2018, the number of tenants experienced rent rise kept increasing.
August 2018 saw the highest level ever when 40 percent of the tenants experienced an increase in rent. Since then, this percentage continued to fall.
Year-on-year, the activity is slower with supply and demand both showing downward trends
Figure 2- Average Number of Properties Managed
Per Branch Year on Year Basis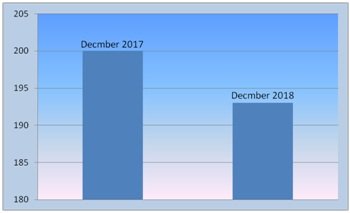 Average properties available per branch for rent rose to 193 in December 2018, up from 183 in November 2018. However, this is down seven-point year-on-year basis, compared to 200 properties last year in December 2017.
Demand from prospective tenants decreased, with the number of house-hunters registered per branch dropped to 50 on average in December 2018, compared to 55 in November of the same year. This is also down year-on-year basis as agents had 59 prospective tenants on their books per branch in December 2017.
Care4Properties provides best professional services to the landlords and tenants on competitive terms. Please contact us on 0113 2488181 or email us at [email protected] for free consultation.