Care4Properties are one of the best estate/letting agents in Leeds. C4P are delighted to bring this large commercial property for rent in LS8 on Dib Lane in Oakwood to the market.
This is a great opportunity for someone to start a business or to grow an established business.
Based in the Oakwood area and joining on to a large residential area giving a very large customer base.
The shop is also located in a parade of shops, which include Cafes, local Vets and many others.
Very close to A58 giving good transport links.
Below are the sizes of a different area of the property:
Reception 213*155 inch
Storage/Room in the rear 356*142 inch
Kitchen 95*90 inch
Attic storage 250*156 inch
Side Room 190*111 inch
Key Features of this commercial property for rent in LS8 are mentioned below:
-Electric roller shutters
-Includes extra floor/storage area towards the rear
-Toilet and kitchen facilities
-Gas supply present
-Should qualify for small business rate relief
To arrange viewings, please contact our office or visit us for more properties to rent in LS8.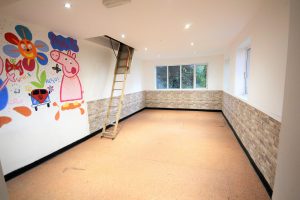 Click here for more pictures and information about this specific property.
Care4properties are property specialists and offer to sell or buy residential and commercial properties to potential buyers, sellers or investors. We follow the transaction closely from the beginning to the end. We also provide exclusive services for you to let out your property with extreme care and due diligence. If you are looking for a property to rent for yourself or for your family, we have a wide range of properties to offer that suits your budget. We also provide services such as building insurance, building works and maintenance services for our customers for a reasonable fee.
Looking for best estate agent costs Leeds or estate agents fees Leeds? Learn more now and get a valuation.